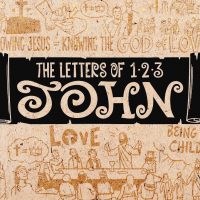 May 7, 2020
1 John 3b
Shawn Bumpers / General
1 John
Introduction
1 John 3:1 LEB
See what sort of love the Father has given to us: that we should be called children of God, and we are! Because of this the world does not know us: because it did not know him.
1 John 3:14 NKJV
We know that we have passed from death to life, because we love the brethren. He who does not love his brother abides in death.
v11-12
John 8:44 NKJV
You are of your father the devil, and the desires of your father you want to do. He was a murderer from the beginning, and does not stand in the truth, because there is no truth in him. When he speaks a lie, he speaks from his own resources, for he is a liar and the father of it.
1 John 1:5 NKJV
This is the message which we have heard from Him and declare to you, that God is light and in Him is no darkness at all.
1 John 3:8 NKJV
He who sins is of the devil, for the devil has sinned from the beginning. For this purpose the Son of God was manifested, that He might destroy the works of the devil.
1 John 2:24 NKJV
Therefore let that abide in you which you heard from the beginning. If what you heard from the beginning abides in you, you also will abide in the Son and in the Father.
1 John 4:8 NKJV
He who does not love does not know God, for God is love.
1 John 5:6 NKJV
This is He who came by water and blood—Jesus Christ; not only by water, but by water and blood. And it is the Spirit who bears witness, because the Spirit is truth.
John 14:6 NKJV
Jesus said to him, "I am the way, the truth, and the life. No one comes to the Father except through Me.
Hebrews 11:4 NKJV
By faith Abel offered to God a more excellent sacrifice than Cain, through which he obtained witness that he was righteous, God testifying of his gifts; and through it he being dead still speaks.
Romans 10:17 NKJV
So then faith comes by hearing, and hearing by the word of God.
v13-15
Matthew 5:21–22 NKJV
"You have heard that it was said to those of old, 'You shall not murder, and whoever murders will be in danger of the judgment.' But I say to you that whoever is angry with his brother without a cause shall be in danger of the judgment. And whoever says to his brother, 'Raca!' shall be in danger of the council. But whoever says, 'You fool!' shall be in danger of hell fire.
James 2:12 NKJV
So speak and so do as those who will be judged by the law of liberty.
1 John 3:14 NKJV
We know that we have passed from death to life, because we love the brethren. He who does not love his brother abides in death.
John 5:24 NKJV
"Most assuredly, I say to you, he who hears My word and believes in Him who sent Me has everlasting life, and shall not come into judgment, but has passed from death into life.
1 Timothy 1:14–15 NKJV
And the grace of our Lord was exceedingly abundant, with faith and love which are in Christ Jesus. This is a faithful saying and worthy of all acceptance, that Christ Jesus came into the world to save sinners, of whom I am chief.
v16-18
John 3:16 NKJV
For God so loved the world that He gave His only begotten Son, that whoever believes in Him should not perish but have everlasting life.
1 John 3:16 NKJV
By this we know love, because He laid down His life for us. And we also ought to lay down our lives for the brethren.
Romans 5:6–8 NKJV
For when we were still without strength, in due time Christ died for the ungodly. For scarcely for a righteous man will one die; yet perhaps for a good man someone would even dare to die. But God demonstrates His own love toward us, in that while we were still sinners, Christ died for us.
Galatians 6:10 NKJV
Therefore, as we have opportunity, let us do good to all, especially to those who are of the household of faith.
James 2:15–16 NKJV
If a brother or sister is naked and destitute of daily food, and one of you says to them, "Depart in peace, be warmed and filled," but you do not give them the things which are needed for the body, what does it profit?
Luke 15:1 NKJV
Then all the tax collectors and the sinners drew near to Him to hear Him.
v19-20
Jeremiah 17:9 NKJV
"The heart is deceitful above all things, And desperately wicked; Who can know it?
v21-22
John 14:15 NKJV
"If you love Me, keep My commandments.
John 15:7 NKJV
If you abide in Me, and My words abide in you, you will ask what you desire, and it shall be done for you.
John 15:10 NKJV
If you keep My commandments, you will abide in My love, just as I have kept My Father's commandments and abide in His love.
v23-24
Matthew 22:35–37 NKJV
Then one of them, a lawyer, asked Him a question, testing Him, and saying, "Teacher, which is the great commandment in the law?" Jesus said to him, " 'You shall love the Lord your God with all your heart, with all your soul, and with all your mind.'
Matthew 22:39–40 NKJV
And the second is like it: 'You shall love your neighbor as yourself.' On these two commandments hang all the Law and the Prophets."
Galatians 5:6 NKJV
For in Christ Jesus neither circumcision nor uncircumcision avails anything, but faith working through love.
Romans 5:1–5 NKJV
Therefore, having been justified by faith, we have peace with God through our Lord Jesus Christ, through whom also we have access by faith into this grace in which we stand, and rejoice in hope of the glory of God. And not only that, but we also glory in tribulations, knowing that tribulation produces perseverance; and perseverance, character; and character, hope. Now hope does not disappoint, because the love of God has been poured out in our hearts by the Holy Spirit who was given to us.
John 14:23 NKJV
Jesus answered and said to him, "If anyone loves Me, he will keep My word; and My Father will love him, and We will come to him and make Our home with him.